What does Ofsted say about us?
"the nursery is highly effective in ensuring that all children make good progress and are safe, happy and well cared for""all children appear happy and settled in the nursery and they clearly enjoy attending"
"children's behaviour is very good and all children play well together"
Please click
here
for our full Ofsted report (January 2014)
Our aim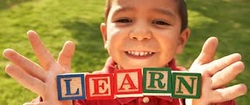 We recognize that children have a variety of talents and enjoy working on different tasks at different speeds. We want children to be confident, independent, inquisitive, socially well adjusted and have a positive attitude towards learning.
---
Let's make friends

Our nursery is open to children from all communities and backgrounds, we believe in equality and teach children to be tolerant and open minded.

---

Outdoor learning

We aim for learning to take place outdoors as well as indoors. Our large outdoor play area is secure and accessible to all children providing plenty of opportunities for physical development, exploring, gardening and lots more.

---

What is Montessori

We value the Montessori philosophy for being a lot more child led and child friendly. To learn more about the Montessori principles, please click on the image above. We are a member of the Montessori School Association.

---
Childcare vouchers

We accept childcare vouchers from all the main providers.

---

Ofsted

We are registered with Ofsted under the URN:
EY466210

---

Nursery Education Funding

We are registered with our local authority to provide free nursery places.
All 3/4 years olds are entitled to 15 free hours per week for 38 weeks per years. We also provide free nursery places to eligible 2 year olds.